---
FAQ
Are your rubber ducks safe for children?
All our rubber duckies are made with 100% Lead and Phthalate-free materials and superior quality paint that do not fade away. They are absolutely safe in bathtubs with children. Manufacture recommends that all children under the age of 3 should have adult supervision.
What payments will you accept? 
Ducks in the Window® accepts Visa, MasterCard, Discover, Diner, and American Express credit cards.  For your convenience we also accept all payment methods via PayPal.
How quickly will my order be processed and shipped?
Most orders are processed, packaged, and shipped the same day (upon receipt of payment) and we use United State Postal Service (USPS) and United Parcel Services (UPS) depending on the size of the order.
What if an item I recieved is damaged, is defective, or not working properly?
Ducks in the Window believes in the concept that we help people "bring-a-smile"! For what ever reason if your smile turns upside down and results in a frown, please don't hesitate to contact Customer Support at info@ducksinthewindow.com. The bottom line is, if for any reason the product your receive from us is damaged, defected, or not working properly we will gladly replace or credit your account.   Upon review, any credits or replacements will be processed the same day and we will advise you if the product needs to be returned or not. If a return is requested, you may return the item to following address:
Ducks in the Window
Attn: Returns
507 Main Street
Chatham, MA 02633 
Is my credit card and personal information secure when I register and place and order?
Yes...You can be confident when you place an order that your credit card information is secure. Our shopping cart uses a secure server. It is riskier for you to give your credit card number over the telephone than for you to place a shopping cart order with us. Registration and Checkout pages utilize high-grade 256 bit encryption.  Look for "https://" in your address bar to see if you are on a secure page.
I have a business or a non-for-profit, do you offer wholesale pricing or tax exempt discounts?
The short answer is yes, as long as you qualify and are able to submit the proper tax ID#. Please contact our wholesale division for further assistance at wholesale@ducksinthewindow.com or call 508-348-9982.
---
About Us
Ducks in the Window is a unique concept store located in the heart of Chatham, Cape Cod Massachusetts and is a destination you have to see to believe.  Not your ordinary store.  We carry the world's largest selection of rubber duckier.  Yes, rubber ducks that squeak, are safe for children, and can float in any tub, spa, or pool.  There are ducks for just about any occupation, personality, or favorite pastime. 


Looking for something special for that next baby shower, or a unique gift for someone who has everything?  Get them a one-of-a-kind personalized jumbo duck with embroydered sailors cap or Nantucket bonnet.  Ducks in the Window will process and ship your order the same day and will have it delivered to most address within the continental US within two business days.  Order here online, or call us at 508-945-0334 or via email at info@ducksinthewindow.com.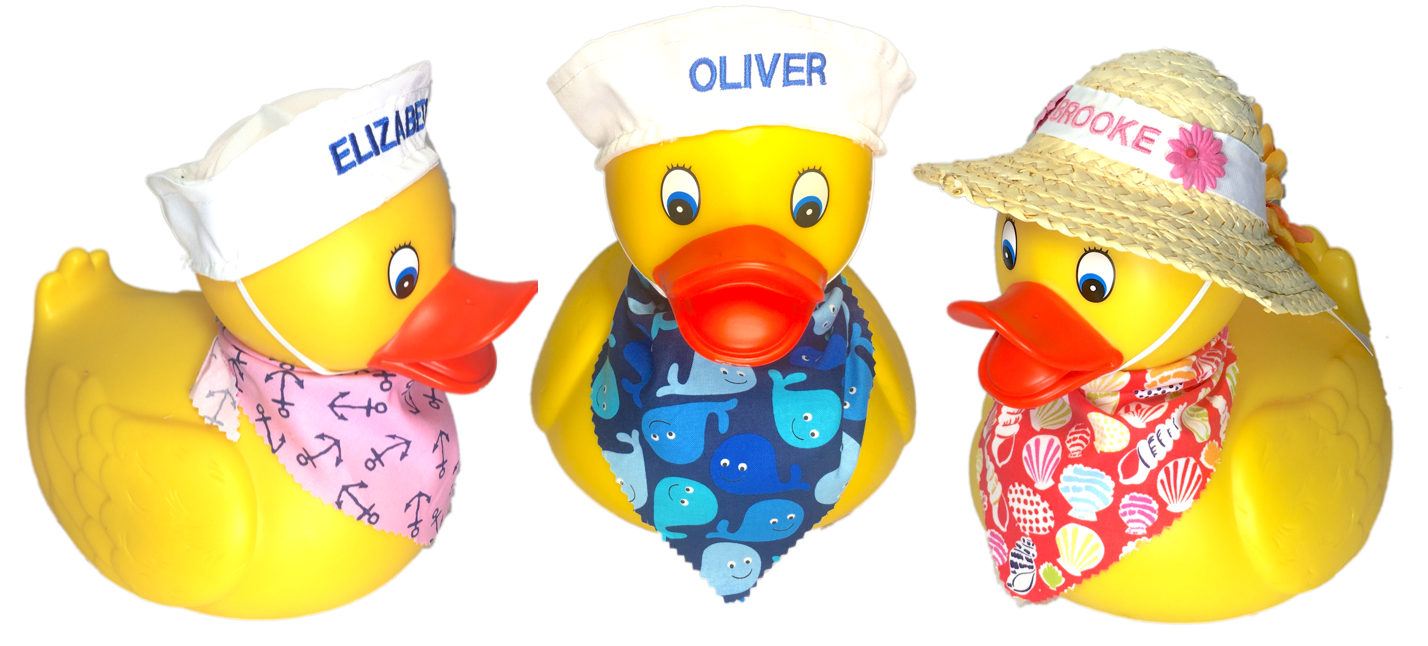 ---
Duckie Facts
Rubber toys first appeared in the late 1800s, when manufacturers made use of Charles Goodyear's process for rendering rubber into malleable material. The first rubber ducks didn't even float: they were cast solid and intended as chew toys.  In the 1940's Sculptor Peter Ganine created a sculpture of a duck, then patented it and reproduced it as a floating toy, of which over 50,000,000 were sold.  These ducks developed into the iconic floating yellow figure with bright orange bill we recognize today.
For many decades, most duck figures have been made of vinyl, but we still call them rubber ducks.  Rubber ducks naturally inspire water play that develops muscle strength and coordination. With their bright color, smooth texture, and (for some) squeaky or quacky sounds, rubber ducks sharpen toddlers' senses. Their presence in the bathtub soothes youngsters' fears of water and water immersion and makes good clean fun of the routine hygiene they're learning.
Rubber ducks have been recognized as the quintessential bathtub toy since 1970 when Ernie, the cheerful orange Muppet on Sesame Street, first sang the catchy song "Rubber Duckie Your The One" to his best bath buddy.  The song rose to number 16 on Billboard's chart of hit tunes and, decades later, kids still sing the praises of their water play pals.
Adults, too, appreciate rubber ducks. Collectors proudly display variations of the classic form that proclaim their affinity to colleges, careers, sports, celebrities, and holidays. Aficionados adorn their homes with rubber duck–themed shower curtains, towels, bathrobes, nightlights, and wallpaper. "Rubber Duckie, you're the one," indeed! 
Rubber ducks are collected by a small number of enthusiasts. The 2007 Guinness World Record for World's Largest Rubber Duck Collection stood at 1,439 different rubber ducks, and was awarded to Charlotte Lee.  Famous people that are known to collect rubber ducks include Zooey Deschanel, Liam Neeson and David Bowie.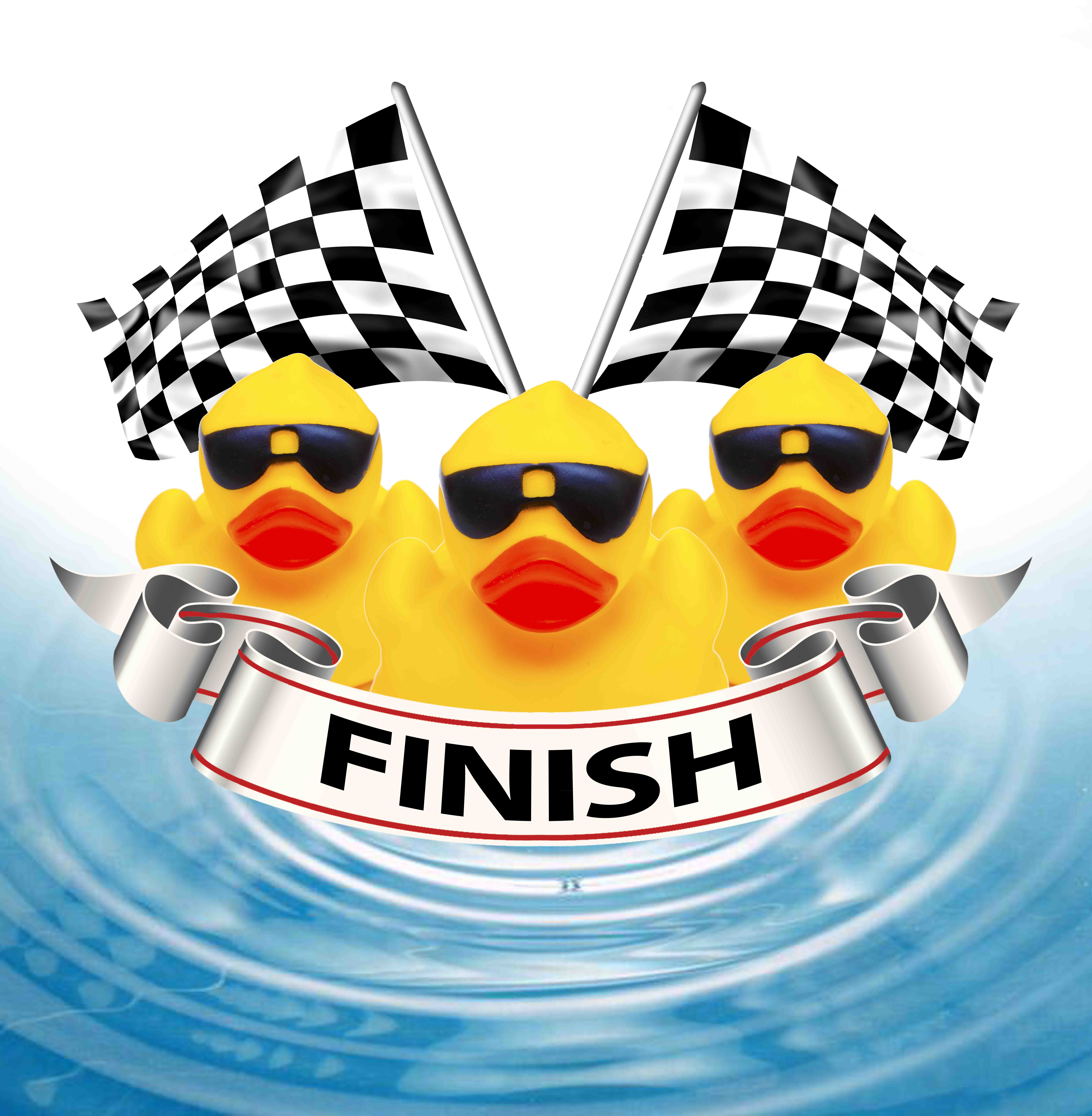 Rubber duck races, also known as derby duck races, have been used as a method of fundraising for organizations worldwide. People donate money to the organization by sponsoring a duck. At the end of the fundraising drive, all of the ducks are dumped into a waterway, with the first to float past the finish line winning a prize for sponsors and charities.
There are hundreds of races held in the USA and internationally. The largest race in the United States is the annual Freestore Foodbank Rubber Duck Regatta in Cincinnati, Ohio. First run in 1994, the Rubber Duck Regatta now features over 100,000 ducks raced to raise money for the organization. Since its beginning in 1994 the Rubber Duck Regatta in Cincinnati Ohio has raised over $4.6 million and over $1,000,000 alone last year.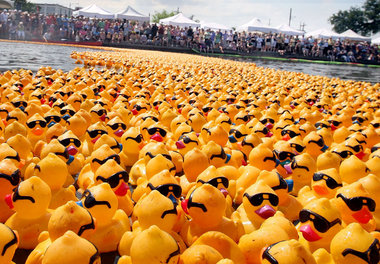 The annual Aspen Ducky Derby was first run by the Rotary Club of Aspen, Colorado in 1991. The derby now features 30,000 ducks and takes place each August in Aspen's Rio Grande Park. Through its past 20 years, the Aspen Ducky Derby has raised more than $2.3 million to benefit 65 nonprofit groups. One of the more famous rubber duck races is the Great Knoxville Rubber Duck Race. This race received attention when the Tennessee Supreme Court ruled that it was a lottery, which stopped the race for a few years. After the state amended its constitution to allow lotteries with special exceptions, the race was reinstituted. The Derby Duck race sees over 40,000 ducks race to benefit the Boys and Girls Club of Tennessee valley.